3-Day Grand Canyon River Trip
3 Days Rafting in Grand Canyon Was a Trip of a Lifetime.
Sandy . - TX, USA | September 22, 2017
This trip has been on our bucket list for several years. My husband and our 4 best friends of over forty years made the trip. The guides Evan and RD were the best. I can't say enough about how they made our trip special. From great meals to just being a part of the group. It was obvious there love for the Grand Canyon. Both have more than 18 years experience. JD's stories made the slow parts of the river so much more interesting. The people we meet in our group made the experience more enjoyable. What a fun getting to know people from all over.

Related Trips
Grand Canyon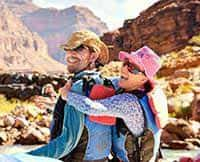 3 Day Grand Canyon River Trip
Raft 100 miles on the Colorado River through Grand Canyon.