6-7 Day Grand Canyon Vacation
Grand Canyon Rafting Is a Trip of a Lifetime - Bucket List Worthy
Rich . - NV, USA | September 22, 2017
The canyon sells itself, and lives up to expectations. The food was WAY above what I would expect for "camping" - the spaghetti would be a 10 out of my own kitchen. The amenities were comfortable. I felt safe at all times, and rightfully scared of 3 BIG rapids, which were a blast. And the guides, wow, hard to describe how much fun they made the trip (the geography and history lessons alone were worth paying for). I wish I could afford to do this every year.
These guides were the best I've ever had. Numerous travels, numerous guides, can't hold a candle to Newty (Greg), Lee, O-town (Justin) and Lindsey. Made the experience twice what it could have been with less committed guides. I'll be recommending them to everyone.
Just the right amount of communication (not a bombardment of emails that become numbing)- what to bring, when to check the weather, etc. Good videos to explain needed gear

Related Trips
Grand Canyon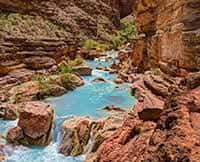 Grand Canyon 6-7 Day Vacation
A unforgettable journey of 188 miles from Lake Powell to Lava Falls.
Grand Canyon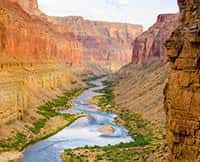 Grand Canyon Rafting Trips
Experience a 3 to 7 day expedition filled with whitewater excitement, spectacular waterfalls waterfalls and starry nights.