Cataract Canyon 2-Day Express
Cataract Canyon Rafting Was a Trip of a Lifetime
Bill . - UT, USA | July 8, 2019
This trip was on my bucket list and did not disappoint. Fanstastic!!! If you have not been this is a must do. I had concerns initially about safety, but never felt unsafe for even a moment. Western Rivers are a class act. They take care of all the details. Their guides were expert, knowledgeable, experienced and very attentive. Just go and have some of the most fun of your life.

Related Trips
Utah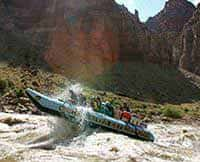 Cataract Canyon Express
Raft the 100 miles of Cataract Canyon in just 2 Days!