4-Day Grand Canyon Tour
Trip of a Lifetime - Check That Off My Bucket List!
Mollie P. - CA, United States | August 24, 2023
What a trip down the Colorado river through the Grand Canyon we had over 4th of July this year. We got to jump on our friends family reunion trip last minute and never could have guessed what the experience would be. From pick up at the Marriott in Vegas, flying to a dirt airstrip somewhere in Utah and enjoying a day/night at the Bar 10. We loved the entire experience at the ranch, horseback riding, learning about the ranches rich history, skeet shooting, great food, sleeping under the stars and in covered wagons. The staff was fantastic and even gave us an evening variety show.
Getting helicoptered into the Grand Canyon to meet our river guides and embark on our journey was definitely a highlight. We were so fortunate to have such great river guides(Stephanie, JT, Jack and Trent). They really make the trip go beyond your expectations. We loved the history they shared, the beautiful scenery, more fabulous food, sleeping out under the stars with the river flowing by.
We have made so many memories and the 3 days was just not enough. Looking to booking a 7 day asap!

Related Trips
Grand Canyon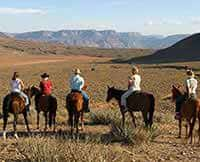 Grand Canyon 4 Day Tour
Combine your Grand Canyon rafting adventure with a day and night at a working cattle ranch.
Grand Canyon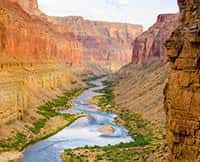 Grand Canyon Rafting Trips
Experience a 3 to 7 day expedition filled with whitewater excitement, spectacular waterfalls waterfalls and starry nights.