Westwater Canyon Multisport
Westwater Multisport, Trip of a Lifetime - Way Too Short
Nick and Niki . - PA, USA | September 12, 2016
Moab is a small town with big adventures. In 4 days we packed a months worth activities, and each one was breathtaking.
The Red Cliffs Lodge is peaceful and rustic. It is about 15 miles from Moab so be prepared to be secluded. We didn't mind at all; with the Colorado river at your doorstep, nightly star-gazing and the amazing sunrises.
There is a adventure to suit all types. The whitewater rafting was exciting, and easily manageable for a novice. Just be prepared for an arm workout.
The Hummer tour is cool and our guide (Mike) was great. But if you'd like to be the driver, I'd suggest renting your own off road all terrain vehicle. Don't get too comfortable though, there is a fair amount of skill involved in making the canyon climbs at Hells Revenge.
For the photographer out there, you'll never put your camera down. There are amazing views, time lapses to be captured and everything is begging to have a GoPro mounted to it.
If you're booking a 4 day trip, I'd suggest adding a couple days to your hotel res. You'll find other things to do that aren't on your itinerary and you'll want the extra time to explore.
Moab is the mountain biking Mecca of North America, so work in a trail while you're there. And make sure to get out to Arches National Park or Canyonlands for a sunset hike.
We didn't try all the restaurants (of course) but the one thing we found lacking was the in the menus. It was hard to find an old fashioned and the entrees we had were all pretty expected. It's not that any of the food was bad, but as you might imagine, a small town like Moab doesn't offer the foodie experiences that a Philly /Austin / NYC does. So if I'm looking for a con from our trip that would be it.
That being said, the experience gets 5 stars and we'd go back in a second.

Related Trips
Utah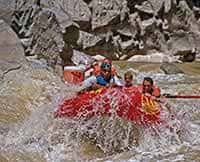 Westwater Multi-Sport Package
$685
per person