6-7 Day Grand Canyon Vacation
Truly Was a Trip of a Lifetime
Rita R. - TX, United States | September 18, 2023
I decided to join this trip after hearing about it a few years ago when I was staying at the Bar10 Ranch. I could not find anyone that wanted to do this with me so I decided to go by myself. That was the best decision I could have made. The trip was fabulous!
The crew was fun and very skilled. The rapids were awesome! I spent most of the time on the boat in the front sucking rubber. The Grand Canyon is even more beautiful from the bottom. The food was great. The other optional adventures were great too. This truly was a trip of a lifetime. I have to admit, I thought I was in pretty good shape but learned there were muscles that I did not know existed but I survived and did not bring home any extra pets!
If you ever want to do this trip, do it with Western River, they were the best!

Related Trips
Grand Canyon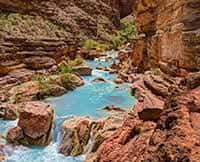 Grand Canyon 6-7 Day Vacation
A unforgettable journey of 188 miles from Lake Powell to Lava Falls.
Grand Canyon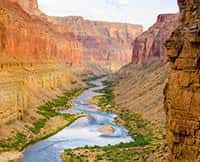 Grand Canyon Rafting Trips
Experience a 3 to 7 day expedition filled with whitewater excitement, spectacular waterfalls waterfalls and starry nights.