3-Day Grand Canyon River Trip
True Bucket List Experience...fantastic
Gail . - CT, USA | September 11, 2019
We are all still coming down from the amazing experience this Geand Canyon trip provided. It is a true bucket list for people of all ages. Our guides were amazing. They provided humor, expertise insight on the rapids, scenery and stories regarding the history and myths of the canyon. Not to mention the amazing techniques they used to make delicious meals for us. They made sure everyone was taken care of for sure.
No one can imagine the beauty right in our back yard that this guided experience provided from start to finish and watching the shooting stars that lit up the night from a front row cot was breath taking. God Bless America and Western River for providing the best seats in the house.
If I could be given the chance for a return I would make it longer than 3 days, that is just how fantastic the journey was.
If I had to pick a draw back, I would have to say NOTHING not even the bathroom, it had an amazing view😊
Thank you for everlasting smiles from the Sokolnicki and Salzano family.

Related Trips
Grand Canyon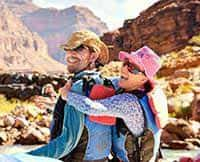 3 Day Grand Canyon River Trip
Raft 100 miles on the Colorado River through Grand Canyon.