6-7 Day Grand Canyon Vacation
Grand Canyon Rafting - Truly a Once in a Lifetime Experience!!!
Mickey . - CO, USA | September 23, 2019
You haven't seen the Grand Canyon until you experience it from the Colorado River! I have hiked and backpacked many miles in the Canyon, but seeing the Canyon from east to west from the river is a once in a lifetime experience. The Western Rivers' staff, from the office staff to the guides, is top notch, with their top priority the comfort and safety of their guests. Abundant wildlife, starry nights and incredible rapids - this is an amazing experience!!

Related Trips
Grand Canyon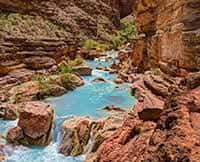 Grand Canyon 6-7 Day Vacation
A unforgettable journey of 188 miles from Lake Powell to Lava Falls.