Western's ​COVID-19 Mitigation & Operations Plan is in effect.
Truly a Unique Once-in-a-lifetime Experience in the Grand Canyon
Jim . - MN, USA | August 25, 2019
The day our Grand Canyon trip was over my wife and I looked each other and said "I'd like to do that all over again right now."
That pretty much says it all. This photo is of our guides Ronnie and Jeff preparing our dinner in their inimitable style .
6-7 Day Grand Canyon Vacation

Related Trips
Grand Canyon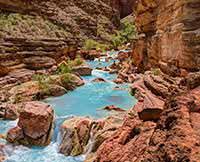 Grand Canyon 6-7 Day Vacation
A unforgettable journey of 188 miles from Lake Powell to Lava Falls.