Western's ​COVID-19 Mitigation & Operations Plan is in effect.
Unbelievable. Best Vacation Ever – Grand Canyon Rafting
John . - FL, USA | August 18, 2019
This was one of the best vacations of my life. Western River really knows how to make a trip memorable. Shad, Newty, Em and Daniel were awesome. The Grand Canyon was unbelievable and our camping spots make me want to live outdoors. The food was excellent. This Grand Canyon Rafting trip was well above my extremely high expectations. Thank you Western River Expeditions.
6-7 Day Grand Canyon Vacation

Related Trips
Grand Canyon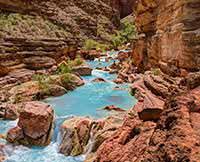 Grand Canyon 6-7 Day Vacation
A unforgettable journey of 188 miles from Lake Powell to Lava Falls.