Cataract Canyon 4-Day Trip
Very Nice Bonding Experience With My Grandson – Cataract Canyon Trip
Arthur . - UT, USA | August 12, 2019
I am a 77 year grandfather and I took my 14 year old grandson on this trip. Whether by Western River design or chance there ended up to be three other 14 and 15 year boys on the trip along with a total of two parents. The group of boys and the group of grandparent and parents bonded together as the trip developed, set their tents up in the same area and ran the rapids in the same raft. This resulted in a great overall group experience and enhanced the bonding experience with my grandson.
Our guide crew of Mitch, Lauryn, Spencer, Anthony and Hyrim also did a great job taking care of us and reacting to the various challenges we faced during the trip.

Related Trips
Utah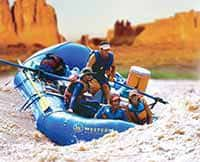 Cataract Canyon 4 Day Trip
Experience 4 Days through the heart of Canyonlands National Park.