Main Salmon River Rafting>
Very Well Run and Good Crew – Main Salmon Rafting
Keith S. - CA, USA | August 22, 2019
Loved the trip with my 9 year old daughter. The crew was so encouraging and polite! Well done. Having an ex guide along with his family, Eric Slyvik, was an added bonus as he and his family were so additive to the trip.

Related Trips
Idaho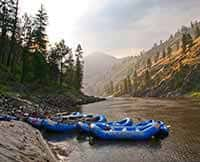 Main Salmon Rafting Trip
The "River of No Return" boasts dense pine forests, granite mountains and abundant wildlife.