6-7 Day Grand Canyon Vacation
The Mysterious, Powerful, and Life-giving Colorado River
Carl M. - OH, USA | August 19, 2021
Thank you for providing this opportunity to reflect on the myriad of events and emotions associated with our Grand Canyon Expedition. Certainly, words alone cannot do them justice. There were simply too many events and too many emotions that make words fall short of the mark. Even the hundreds of pictures and numerous videos that we took, as beautiful as they are, cannot fully capture the depth and emotive sense offered in the canyon's natural setting. One thing is certain. Even though there were 10 family members in our group doing most things together, the Grand Canyon and that mysterious, powerful, and life-giving river running through it, also made each person's experience highly unique.
How fortunate we were to have such an incredible team of guides who took great care and showed great concern for us – Ronnie, Jeff, Mackey, and Mark. From the very beginning, it was obvious that they wanted us to have an amazing life experience, but they knew too that that could only occur if they required us to invest physically and emotionally in the process. I have never met a more professional, capable, and endearing group of people in my life. Each of us probably has our favorite person among that group, but each of them dedicated themselves totally to the process of keeping us safe, hydrated, satiated, informed, entertained, and happy.

We loved every aspect of the trip. Even the black beetles that first night offered something unique. (I'm really glad it was only one night.) The majesty of the canyon walls, the shadows, the heat, the magnificent night sky, the sounds and coldness of the water, the cool and hot breezes, the smell of sage, the cactus and other plants, the birds and other critters, the sand – these all came together in a way that only creation and nature could provide. Clearly, there is a life force that is much bigger and far more loving than ourselves. How incredibly humbling it was. How incredibly lucky we felt to be a part of it each day. I want that feeling to continue. The challenge now will be to take these gifts and use them to keep us grounded emotionally, physically, and spiritually in our everyday life.

Related Trips
Grand Canyon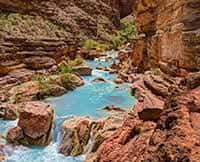 Grand Canyon 6-7 Day Vacation
A unforgettable journey of 188 miles from Lake Powell to Lava Falls.
Grand Canyon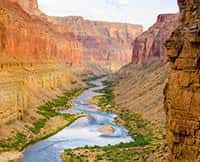 Grand Canyon Rafting Trips
Experience a 3 to 7 day expedition filled with whitewater excitement, spectacular waterfalls waterfalls and starry nights.