6-7 Day Grand Canyon Vacation
Our 6 Day Grand Canyon Trip With Western River Expeditions
Adrienne O. - NJ, United States | August 1, 2023
My stepmother went on the 6-day Grand Canyon trip 40 years ago. After seeing her pictures and hearing her stories, I knew I wanted to take the same trip. I had to wait until my children were old enough, then I had to save up for the cost of the trip, then I had to spend the money I'd saved on a household emergency, then my husband had a long illness. All this time I was on the Western River email list, and I'd occasionally receive emails about upcoming trips. The email I received in November 2021 had a countdown clock saying that in 24 hours, WRE would be booking for the 2023 trips.
I called my sons, who are now adults, and asked if they were still interested in the trip, and I heard a resounding Yes!!! So we booked our trip and we had an incredible time. Our experience was beyond description and so much fun.
I had several conversations with my 93-year-old stepmother as she described her trip to me. She remembers every detail, the guides' names, where they camped, what she ate, and sliding down Havasu Falls. Our trip was exactly as she described.
We've come away with a real reverence for the river, the canyon, and our National Parks.

Related Trips
Grand Canyon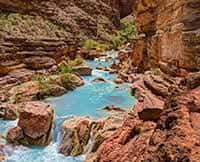 Grand Canyon 6-7 Day Vacation
A unforgettable journey of 188 miles from Lake Powell to Lava Falls.