6-7 Day Grand Canyon Vacation
Grand Canyon – What an Awesome Experience!
Decarps2 . - AZ, USA | September 13, 2019
WRE provided excellent service, wonderful guides, great food and a life changing view of the Grand Canyon.
As a hiker/backpacker the experience to see the Grand Canyon from the inner gorge, to view the river, rapids and campsites hiked to, really opened up a whole new perspective of the Grand Canyon.
I highly recommend this trip to anyone.

Related Trips
Grand Canyon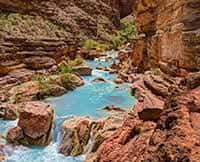 Grand Canyon 6-7 Day Vacation
A unforgettable journey of 188 miles from Lake Powell to Lava Falls.