6-7 Day Grand Canyon Vacation
A Mystical and Magical Experience Rafting in the Grand Canyon
Marty S. - NJ, United States | June 28, 2023
Let me start by apologizing for the delay in this review. It was truly a last-minute decision, there was one spot open and I booked it. I've always wanted to raft Colorado thru the Grand Canyon, but could never be "off the grid" for a week. What the hell, life is short and I couldn't be happier with the decision.
So there I was a semi-retired guy spending a week on the river, off the grid, and wishing it lasted longer! Yes, the rapids were exciting, but the best parts of the trip were the newly formed friendships and the Mystical and Magical experiences that the crew created! The crew was a true delight, Mickey, Mark, and Reis made the trip! The food was great, and the stories were entertaining, but it's the cohesiveness of the crew that made it exceptional. Yes, they were doing their "job", but it was obvious that this was more than a job. They created an experience that was Magical and a memory for me that will last forever!
Thank you, Thank you, Thank you!
P.S. I'm now hooked! I'm booked on the Cataract Canyon trip for next week...

Related Trips
Grand Canyon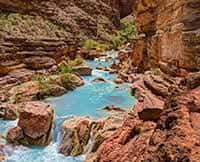 Grand Canyon 6-7 Day Vacation
A unforgettable journey of 188 miles from Lake Powell to Lava Falls.
Grand Canyon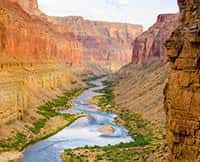 Grand Canyon Rafting Trips
Experience a 3 to 7 day expedition filled with whitewater excitement, spectacular waterfalls waterfalls and starry nights.