Cataract Canyon 2-Day Express
Wild and Crazy Cataract Canyon Express Trip!
Terri . - MO, USA | July 16, 2019
We had such a great trip with Danny & Nick on the Cataract Canyon Express trip in late June. There was never a moment that we felt unsafe or unsure since both of our guides exhibited professionalism, expertise, and total confidence. The scenery was gorgeous and we lucked out on the weather with beautiful sunny skies and just enough wind to keep us cool. The short hikes we took were just the right difficulty and pace for our group of (mostly) senior adults. However, there was plenty of excitement for the younger people in our group - particularly when it came to the rapids. Nick was the guide on our boat and he provided great commentary during the slower parts of the river with humor sprinkled in to spice up our trip down the river. He was very knowledgeable and had a spunky personality to make even the most mundane parts of the trip even more fun. We felt totally prepared to safely ride the rapids and both Nick and Danny prepared us for exactly what to do and ensure our equipment was secured for the safest possible ride. There was plenty of excitement through the rapids and we were very thankful to have our rain gear on and a good grip on the straps and rope to keep our butts in the boat!
The meals were creative and well prepared by our guides who obviously had more than river raft skills. None of us came away hungry although my shorts were just a little tighter after the evening meal of perfectly cooked steaks and dutch oven cobbler. Who knew???
One of our favorite parts of the trip was the night sky - we saw the milky way which is such a treat! The beauty of the canyon during the day was only surpassed by the beauty of the late afternoon lighting and the clear starry night sky.
We are singing your praises and hope to return for another trip in the future.

Related Trips
Utah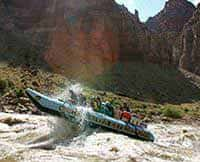 Cataract Canyon Express
Raft the 100 miles of Cataract Canyon in just 2 Days!