6-7 Day Grand Canyon Vacation
Wonderful and Unforgettable
James . - CO, USA | July 15, 2019
Best 6 days of 2019. As an 85 year old I can't say enough about the help I had from my son and a number of young men on the Grand Canyon trip. Thank you Justin, Derrick, Garrett and Max. You all made the trip safe and fantastic.

Related Trips
Grand Canyon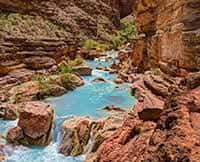 Grand Canyon 6-7 Day Vacation
A unforgettable journey of 188 miles from Lake Powell to Lava Falls.