Cataract Canyon 2-Day Express
Cataract Canyon Was Wonderful, Inspiring, Exciting, Scenic
Barbara . - NC, USA | July 11, 2019
Our trip was a great experience for each member of our group. We had 14 high school students, 2 rising college freshmen and 2 chaperones....we all had an incredible time on the river. The guides were great, the food was delicious and the scenery was wonderful. The river rapids were especially exciting and our guides did a great job preparing us for the experience. I'm so glad I was able to take all these kids on an adventure like this.

Related Trips
Utah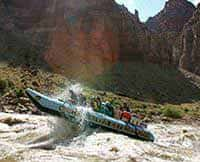 Cataract Canyon Express
Raft the 100 miles of Cataract Canyon in just 2 Days!