6-7 Day Grand Canyon Vacation
A Wonderful Grand Canyon Retreat
Mary B. - Michigan, United States | August 18, 2021
This was the most relaxing yet challenging retreat, with so much beauty all around you. We got to do and see so much in these 6 days. Learn to work together as a team and family. Be kind and help one another. Have so much fun in the rapids and enjoy beautiful waterfalls during our hikes. I did things that I have never done.
Loved our wonderful guides. They were the best! So knowledgeable and told jokes, true stories, and history of the Canyon. Even played the guitar and sang for us. Loved them. 8 of us were family that came together but by the end, we were all family. The food was amazing and plenty of it. We played games in a big circle. Loved this trip. Being off the grid was the best! No news, tv, politics, or drama! Just fun.

Related Trips
Grand Canyon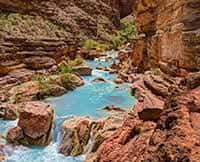 Grand Canyon 6-7 Day Vacation
A unforgettable journey of 188 miles from Lake Powell to Lava Falls.
Grand Canyon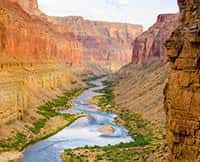 Grand Canyon Rafting Trips
Experience a 3 to 7 day expedition filled with whitewater excitement, spectacular waterfalls waterfalls and starry nights.