6-7 Day Grand Canyon Vacation
Wonderful Grand Canyon Trip
Pete . - AZ, USA | July 23, 2019
This is the second Grand Canyon 6-Day trip my wife Sandy and I have taken with Western River over the last five years. If you want the trip of a lifetime, this is your excursion. The guides, Lutke, Shad and Beak were perfect for our group. They made sure we were well-fed, comfortable and safe while we made sure to ask all the crazy questions they answered 100x before with a smile. It's my feeling that the guides make the trip most enjoyable with stories and accounts of expeditions past with a course in geology thrown in. Never a dull moment, always a thrill, this trip was the best one we've ever had in almost 19 years of marriage. All of our new friends on the boat had a blast and we look forward to going again in a few years with a bunch of newbies to indoctrinate to the Grand Canyon and it's wonders.

Related Trips
Grand Canyon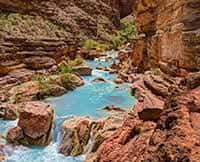 Grand Canyon 6-7 Day Vacation
A unforgettable journey of 188 miles from Lake Powell to Lava Falls.