6-7 Day Grand Canyon Vacation
A Family Vacation Worth the Wait!
Elizabeth C. - Kentucky, USA | August 14, 2020
Rafting through the Grand Canyon on the Colorado River has been on my "bucket list" for almost 50 years. I saw an advertisement for it when I was a college freshman and knew it was a must do!
It was everything I had hoped for and much more. The scenery as we floated the river was breathtaking and I could almost feel the spirits of the ancient people who made the sacred ground in the canyon their home.
Our guides were fantastic, friendly, informative and all around top notch. The food was incredible! Who would have thought we'd have ice cream and brownies for dessert in the middle of the Grand Canyon!
Sleeping under the stars made me realize just how much I missed the night sky of my youth. And no news, politics or face masks for 6 days was a refreshing respite from today's crazy world!!
This was, by far, the most fabulous and fun trip I have taken. The Grand Canyon has not seen the last of me!

Related Trips
Grand Canyon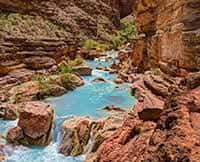 Grand Canyon 6-7 Day Vacation
A unforgettable journey of 188 miles from Lake Powell to Lava Falls.
Grand Canyon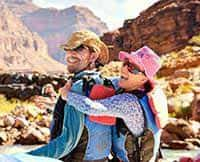 3 Day Grand Canyon River Trip
Raft 100 miles on the Colorado River through Grand Canyon.
Grand Canyon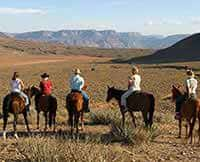 Grand Canyon 4 Day Tour
Combine your Grand Canyon rafting adventure with a day and night at a working cattle ranch.