6-7 Day Grand Canyon Vacation
Wow! A Trip of a Lifetime
Jackie L. - NJ, United States | September 8, 2022
Of course, the landscape is breathtaking and at every turn, you are in awe. But I am writing to let you know that we had the most fantastic guides... Knowledgeable, kind, funny, genuinely the best guys... They MADE the trip... it was so much fun with them. It was clear to me and others how it is such a challenging, physical job being a guide... They always maintained a great attitude while safety was paramount.
Justin - can't say enough good things about him... totally fantastic... awesome leader and mentor. Witnessing his actions, leadership and sheer joy of being on the river was a great by-product for me.
Bill - WOW, what effort and enthusiasm with this guy. Although he is relatively new, he was so knowledgeable and passionate about his position. A keeper for sure.
Newtie and Mark - not on our raft but we spent so much time with them... what great guys.... possessing all the qualities I listed above.
Also so impressed that these guys keep smiling, chopping food, lifting bags and equipment, and just keep going... they have got skills in every area.... and always give 110%
Wonderful memories. Trip of a lifetime... Would love to do another one someday.

Related Trips
Grand Canyon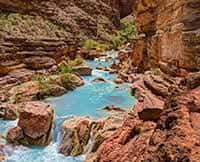 Grand Canyon 6-7 Day Vacation
A unforgettable journey of 188 miles from Lake Powell to Lava Falls.
Grand Canyon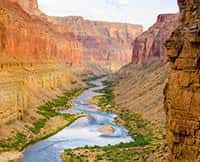 Grand Canyon Rafting Trips
Experience a 3 to 7 day expedition filled with whitewater excitement, spectacular waterfalls waterfalls and starry nights.