6-7 Day Grand Canyon Vacation
Wow, Wow and More Wows!!
Kristen D. - Sinaloa, Mexico | September 19, 2023
Booking with Western River Expedition was the BEST decision we EVER made. Our family of Leo's decided years ago that we would take a trip each year to celebrate our birthdays. The idea is to create more memories and less STUFF.
Being disconnected from our phones, and internet service was a HUGE blessing. Sleeping under the stars was absolutely magical. Walking up to water falls and learning about the history of the Grand Canyon. The food that the crew made for us each day…. Holy Cow…. Everything was so delicious! Homemade cornbread and blueberry muffins while camping… WOW! I felt like we got super lucky with our crew….. Joe, Mikey, RD and JT were so incredibly AWESOME.
If you LOVE ❤️ an adventure, and want to book the BEST river tour in the Grand Canyon..: look no further than Western River Expeditions.

Related Trips
Grand Canyon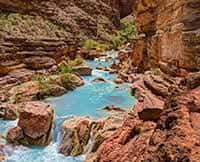 Grand Canyon 6-7 Day Vacation
A unforgettable journey of 188 miles from Lake Powell to Lava Falls.
Grand Canyon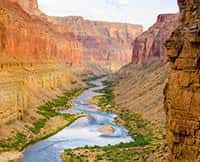 Grand Canyon Rafting Trips
Experience a 3 to 7 day expedition filled with whitewater excitement, spectacular waterfalls waterfalls and starry nights.