Cataract Canyon 4-Day Trip
Your Guides Are Insane(ly) Good! – Cataract Canyon
Leigh . - IL, USA | July 24, 2019
Your trips are super professional, and guides do work that 99.95% of the world could never accomplish - they are informed, patient, kind, funny, caring, while STILL doing 16 hours/day of HARD WORK.
Our group of four was in awe of them. They made it a first-class experience.
Our hats off to Alora, Dylan, Derek and Aimee - Just incredible people. Your company is so lucky to have them, probably the whole world is lucky to have them. Tell their parents. The parents should probably be on the Mt. Rushmore for parents wherever that is. If you look at Cataract Canyon long enough, you see whatever you are looking for....so maybe it's there.....

Related Trips
Utah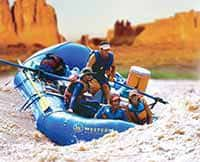 Cataract Canyon 4 Day Trip
Experience 4 Days through the heart of Canyonlands National Park.