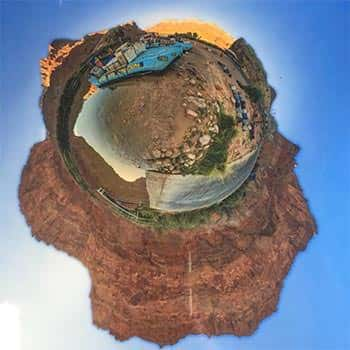 360° Photo & Video Gallery
Imagine you're staring at an electronic device... okay good!
Now imagine you are surrounded by the Grand Canyon...or Cataract Canyon... or Desolation Canyon...
If it's hard to do, then you may be suffering from symptoms of Nature Deficit Disorder - it's simply been too long since you immersed yourself in wild places. We can help!
Long Term Fix: There's nothing like the real thing. You'll just have to book a trip for this summer! If you have already, good thinking! Share this remedy with anyone you know that needs more teeter in their totter. We're talking about literally surrounding yourself with nature and wild places. Field tests have proven that there are life-long benefits associated with this kind of treatment. It's that good!
Short Term Fix: To alleviate the effects of Nature Deficit Disorder during the long winter months when we are away from the river and Canyons we love, we have developed "360 Degree Virtual Nature Teleportation Portals". Some call them "Magic Rectangles". There are more than a dozen views to peek at in each trip. Use your computer mouse or tablet finger device to literally "look around" the canyons. It's pretty amazing.