A Behind the Scenes Look at Grand Canyon Rafting with Western River Expeditions
At some point in any river trip through the Grand Canyon, a guest will ask, "How do you get the boats back upstream?"
As guides, we'd rather the truth not get in the way of a good story, so we've spun a few good tales like: "we fill the tubes with helium and fly them back". Or, "Don't ya know, the river just circles back to the starting point like a lazy river at a waterpark."
It's fun to play the Wizard of Oz for a few moments before telling them the not-so-glorious truth that we literally disassemble everything and load it all into a semi-truck trailer. It's not helium wizardry, or magic circular rivers, but what we do is a modern-day marvel nonetheless. It's engineering, and ordering, and habits of perpetual preparation, and plain old hard work.
You see lots of hard work from the guides on the river, but now you've got a better glimpse into how these trips get on and off the river. We are so thankful to you, our guests, for making so many jobs possible. After the initial lockdowns of the 2020 pandemic, we are especially grateful to be hard at work again!
Note: this was filmed in the summer of 2019, before COVID-19 protocols.
Related Trips
Grand Canyon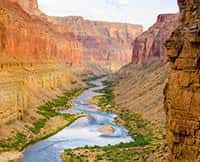 Grand Canyon Rafting Trips
Experience a 3 to 7 day expedition filled with whitewater excitement, spectacular waterfalls waterfalls and starry nights.