Tranquility is the River's Other Pace
Like a wave on the river, life can hit us all with some stronger-than-expected impacts, and sometimes the hits just keep on comin'. But some wise words from Sandy (who has answered so many emails and phone calls at Western for the last 30+ years) have helped us hold a little tighter:
"The waves never hit us all in the same way. So you just support others as they go through their rapids. We help each other regain hand-holds, and have each other's back when things slip loose again. We all need each other."

Rather than tumbling all the way downstream, there's a point at which you realize it's time to "come to your senses". You pull over, take a breath, and...breathe.... Smell a wildflower. Touch the warm sand through your fingers and toes, and simply "sense" that life, like the canyon, is big enough for calm too.
There's a natural healing that comes from the rivers and canyons out west, and we are privileged to guide you through them.
Where will you find a better place to "come to your senses"?
Related Trips
Utah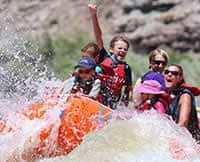 Desolation Canyon
Astounding scenery, over 60 rapids, and great beaches!
Utah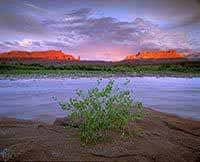 Moab Utah Southwest Sampler
Combine an overnight raft trip with an off-road Hummer Safari, and Arches National Park.