Feel the Connection on the River
Desolation Canyon, Utah 5 Day Expedition:
"It's a rare thing, in modern life, to reconnect with nature... to spend time with a group of people who are also enjoying that same adventure."
"It's great to spend time with friends and family. Your whole focus is spending time with one another out here in this beautiful country, and having a lot of fun at the same time."
"This is definitely a great family adventure. And that's what we wanted to give these kids, is an experience that they would never forget."
"Certainly there are memories here that will continue to be talked about for years to come."
"The river just kind of connects people in a way that nothing else really does."
We couldn't find better words than what guests and guides already uttered at the conclusion of a Desolation Canyon 5 Day Expedition - and captured in this video short.
Want to feel the connection? Gather your group, your clan, your family units, and come feel the connection on the river with us on the river. Already felt that connection? Make the world a better place and share our video with someone you like!
Related Trips
Utah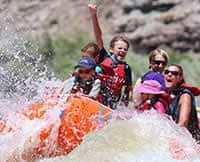 Desolation Canyon
Astounding scenery, over 60 rapids, and great beaches!