Lessons From "The Daily" Section of River
I've loved my time working on a stretch of the Colorado River known to locals as "The Daily". Rafting day trips here is one of the most popular activities in Moab. Throughout the day guides and passengers share amazing views, from the Fisher Towers to Castle Valley to the sweeping red walls that tower above the river and Scenic Byway 128.
It is a section of river that has something for everybody. There are fun splashy rapids spaced out by calm sections of water to float in the river, play games, get pictures, take in the scenery, and of course, hear all of your guides cheesy interpretive "talks" about the surroundings.
Part of being on vacation is to gain a new perspective to bring back home. In that spirit, I share these thoughts collected as I've worked "The Daily". See if there's some way they apply to your relationships back home:
1. The sharing of a good joke
Everyone is out on the river to have a good time. Life is basically the same way. We all want a good time whether with family, friends, strangers. Some of my favorite stories to share have come from passing interactions I've had with guides from other rafting companies and fellow travelers on the river. Some seriously great jokes have come from everywhere in the world, and here they are hopping into my boat! If you've got something good to share, everyone wants to hear it!
2. The River Has Something for Everyone - water fights included
Paddles, buckets, water bottles, or hands; the weapon of choice depends on the person. Water fights can be a favorite part of the trip for high-energy groups, but that doesn't mean they're for everyone. Part of being a river neighbor is allowing people to be wet boats or dry boats as they please. Your splash power is best saved for boats that will give it right back at you.
3. Respecting each other's personal space
The river is wide enough for you and for them, and it wants you BOTH there. The best part of someone's day could be hanging out next to you and your boat, or it could be the solace they find out there on their own. A good neighbor recognizes this and respects the personal space of those they share the outdoors with.
4. Staying in your lane
When you're going with the flow a boat might be in the fast lane or the slow lane. Like on the road, there's a common courtesy that gives allowance to boats busting a move to pass those that are taking it easy. There is a time to pass and a time to be passed when it's safe for everyone and when it adds to the enjoyment of everyone's days. The sections between rapids are good times for this.
This trip on the Colorado River is offered from the Moab Adventure Center and there are three ways you can run it. You can meet at 8:00 in the morning and spend either four or seven hours on the river, driving up to start at Hittle Bottom and breaking for half-day at Rocky Rapid.
The third option for this trip starts in the middle of the day at this half-day spot at Rocky Rapid, where you get a little bit of time on the boats before arriving at the lunch spot. At least for me, this lunch at Red Cliffs Lodge is part of what makes me stoked to get out of bed every morning (after four years, it still hasn't gotten old!). The trip ends for everyone at Take Out Beach.
The Colorado River draws anyone and everyone in and has enough to give for each voyager. By being mindful, we can be good river neighbors to each other out here.
Related Trips
Utah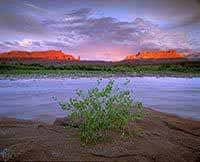 Moab Utah Southwest Sampler
Combine an overnight raft trip with an off-road Hummer Safari, and Arches National Park.