Minimum Ages, Weight Limitations, and Lifejackets on our rafting trips
We get a lot of questions about the minimum age for participating in one of our raft trips.

On our more challenging rivers such as Grand Canyon 6 & 7 Day, and Cataract Canyon motorized (high water, we have set 12 as the minimum age. On our Grand Canyon 3 and 4-day trips the minimum age is 9, and the age is 10 on our Cataract Canyon rowing trips (low water). For all other trips, the minimum age is 5. However, when a child is that young, we also need to know an accurate weight because the child must also weigh at least 50 pounds. The weight restriction of 50 pounds is a hard and fast rule set by the United States Coast Guard and adopted by the State and Federal agencies that regulate our industry.
The ages of 12, 10, 9, and 5 are set by us. We have to draw the line somewhere and feel confident, after decades of experience, that we have determined the proper ages for each expedition we offer. We estimate minimum ages for each trip based on the average strength (ability to hold on) and an average level of emotional maturity of most of the kids we take down the river.
On a professionally guided river trip, we are only allowed to use "Type 5 Whitewater Lifejackets". The United States Coast Guard has established the numbering system for types of lifejackets and their system is adopted by the State of Utah, National Park Service, and Bureau of Land Management. The "youth" sized, Type V jackets that we are required to use are rated from 50-90 lbs. If a child weighs less than 50 pounds, then it is a violation of Federal and State law for him or her to participate in a commercial river trip. For Western River Expeditions, it also would put us in violation of the promises we have made as permittees and contractors with the federal and state agencies.
Five-year-olds that are under 50 pounds tend to be so skinny that Type V "youth" lifejackets consistently pop right up and over their heads when they hit the water, leaving the child suddenly without a lifejacket. We often get the suggestion to add a strap that goes between the legs to help keep the jacket on an under 50-pound child. Besides being very uncomfortable, the law also states that the jacket cannot be modified. To be sure, there are great lifejackets on the market that work well on smaller children in pools and lakes. They are all "Type 3" jackets and are not allowed for commercial use. Ultimately, these ages and weight restrictions are about safety. Again, if a lifejacket does not fit snugly, then it will come off when in the water. The same is true for adults who do not adequately tighten their jackets.
We understand the frustration of not being able to include a younger child, but this is a situation where, for reasons of safety and compliance we have to stand firm.
Related Trips
Grand Canyon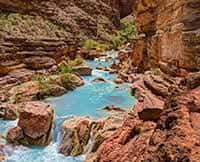 Grand Canyon 6-7 Day Vacation
A unforgettable journey of 188 miles from Lake Powell to Lava Falls.
Utah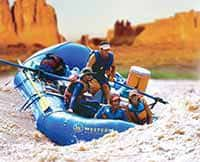 Cataract Canyon 4 Day Trip
Experience 4 Days through the heart of Canyonlands National Park.