Reading the River
I have been extremely fortunate to have spent almost 600 miles on various rivers with Western River Expeditions. The next planned trip is June 16, seven days through the Grand Canyon. I am sure I am feeling the same thoughts as many, trying to turn anxiety of what we are currently experiencing in our life (COVID-19 pandemic and social distancing quarantine) back into the excitement of planning for the next trip. As a teacher of fifth graders, I often share quotes about reading and I feel this one is most appropriate during our "Stay Home, Stay Safe" quarantine: "Reading gives us some place to go when we have to stay where we are." - Karen Bennett
Here are the books I read when I can't be on the river, but dream of being there. I hope you enjoy!
Belknap's Waterproof Grand Canyon River Guide
Mile by mile color Waterproof Guide to the Colorado River through Grand Canyon with shaded relief/topographic maps, and special sections on history, archaeology, geology, natural history and photography. Updated yearly with campsites and new USGS Mileage Points: Geology section features step-by-step easy to understand description of how the Canyon was formed as well as color photos from river level with formations clearly labeled for easy identification.
Personal note: I purchase one of these for every river trip we take. I use it to log daily miles, campsites, lunch stops, hikes, anything I want to remember. After camp is set up and before appetizers are called, I take time to log in the day. It becomes a great reminder of all the little details and can easily be forgotten once you get home.
The Emerald Mile Kevin Fedarko
From one of Outside magazine's "Literary All-Stars" comes the thrilling true tale of the fastest boat ride ever, down the entire length of the Colorado River and through the Grand Canyon, during the legendary flood of 1983.
Personal note: This is so beautifully written that I find myself rereading, phrases, sentences and paragraphs over and over, beginning with a favorite: paragraph one on page one!
There's This River Christa Sadler
An anthology of stories and artwork produced entirely by the river guiding community of Grand Canyon. Often hilarious, sometimes bittersweet and always entertaining, these true tales tell the stories of a landscape, a lifestyle and a unique community.
Personal Note: I bought this book at Bar 10 Ranch after our first seven day Grand Canyon trip. I remember experiencing sensory overload while sitting at the edge of a crowded Las Vegas pool and wishing I was back on the river. This book took me back and now the pages are falling out and I have notes scribbled throughout it. Be sure to read The Truth or Tomatoes?
Dories, Ho! Matt and Karen Smith
Travel with Matt and Karen as they float down the Colorado River through the Grand Canyon. In September 2016, they experienced the trip of a lifetime with 14 friends and a crew of 10 while traveling in wooden dories through the canyon. Dories, Ho! is a story of their adventure and discovery.
Personal Note: Fun, quick, light read that will make you laugh!
We SWAM the Grand Canyon Bill Beer
The true story of a cheap vacation that got a little out of hand. In 1955 Bill Beer and John Daggett, at the time both recently out of the military, and in their mid 20s, footloose, and more or less unemployed conceived the idea of swimming the Colorado River through the 279 miles of the Grand Canyon-principally because they couldn't afford a boat. This simple idea escalated into a national news story and has been one of the legends of the Grand Canyon ever since. Never equalled nor duplicated, their illegal venture and many of its dangers, comic episodes, innovations, side effects and long term ramifications are the story of this book.
Personal Note: Recommended by a friend (Kam), I read this book after our first river trip and patiently trying to wait for the second. It is an interesting approach to traveling through the Grand Canyon.
Writing Down the River Grand Canyon Association
Copious, dramatic color photographs and poetic quotations illustrate these essays describing the whitewater rafting experiences of 15 prominent female writers sent down the Colorado River during the summer of 1997.
Personal Note: This book contains beautiful photos that will make you sigh, laugh, and maybe shed a tear of joy. All fifteen essays are written by women. I think I may reread this book by finding a peaceful space in my home or backyard and start each day with an essay for the river!
Erik Weihenmayer is the first and only blind person to summit Mount Everest, the highest point on Earth. Descending carefully, he and his team picked their way across deep crevasses and through the deadly Khumbu Icefall; when the mountain was finally behind him, Erik knew he was going to live. His expedition leader slapped him on the back and said something that would affect the course of Erik's life: "Don't make Everest the greatest thing you ever do."No Barriers is Erik's response to that challenge. It is the moving story of his journey since descending Mount Everest: from leading expeditions around the world with blind Tibetan teenagers to helping injured soldiers climb their way home from war, from adopting a son from Nepal to facing the most terrifying reach of his life: to solo kayak the thunderous whitewater of the Grand Canyon.
Personal Note: I watched the film The Weight of Water and look forward to reading this book to learn more about Erik and his journey.
Sunk Without a Sound Brad Dimock
On November 18, 1928, Glen and Bessie Hyde launched on the final leg of their honeymoon voyage through Grand Canyon. Their cumbersome wooden sweep scow was found upright and fully loaded three weeks later, but despite exhaustive searches, Glen and Bessie had vanished without a trace. Or had they? In the years since, four people appearing to be either Glen or Bessie have emerged, each with a tale implying murder and mayhem. Author and boatman Brad Dimock has unearthed the true story of the Hydes, followed each tale to its source, and gone so far as to retrace the Hydes' fateful voyage in a replica of their archaic scow.
Personal Note: I haven't read this yet!
Between River and Rim Pete McBride
Award-winning photographer Pete McBride, along with best-selling authors Kevin Fedarko and Hampton Sides, takes us on a gripping adventure story told through stunning, never-before-seen photography and powerful essays. By hiking the entire 750 miles of Grand Canyon National Park--from the Colorado River to the canyon rim--McBride captures the majesty of as well as calling us to protect America's open-aired cathedral.
Personal Note: A beautifully illustrated book. I enjoyed experiencing the Grand Canyon on foot while reading this, however, I'll take a j-rig instead!
Related Trips
Grand Canyon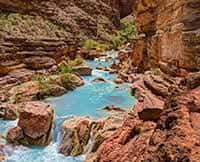 Grand Canyon 6-7 Day Vacation
A unforgettable journey of 188 miles from Lake Powell to Lava Falls.