Cataract Canyon Mindfulness/Yoga Retreat - Utah Yoga & Wellness
Hello! We are so excited to be offering this amazing trip, created just for you! If you're booking a river trip with Western, you're already looking for a scenic and outdoor adventure created with professionalism. Adding many therapeutic elements of specific mindful practices within the beauty of the canyon, with optional yoga, only adds to the experience. Plus, our in-house massage therapist comes along for 30 min. riverside massages for only $40, paid to her directly.
*We limit the numbers on purpose to keep a feeling of connection and unity, so book your spots now.
Who we are:
Utah Yoga & Wellness
Elise Jones, certified Yoga Therapist, EYRT 500, SUP & Aerial Yoga
Christian Jones, RYT 200, teaches specifically Mens stretch classes ("Broga") catered to stiffer bodies like his
Bonus: We both guided for Western for several years (how we met) and still guide when needed, among our annual private river trips for the past 21 years.
The river is our second home, and along with your guides, we are there to enhance your experience in every way.
Basic added itinerary to your river trip:

We know the canyon(s) well, and have prepared special mindfulness opportunities during specific places in the canyon to cultivate a greater experience.
Daily morning & evening meditation
Daily yoga stretch and movement
Journaling (journals provided)
Yoga Therapy workshop learning the tools of self soothing & overcoming stress & anxiety, which can come in handy on big rapid days
Did we mention everything is "optional?" We know that couples, friends & families all have different interests, yet want to enjoy a trip together, which is why these added elements are optional. There is so much to enjoy on a Western river trip, with plenty of opportunities for everyone to do what they most enjoy.
FAQ's:
1. Do I have to do or be good at yoga?
Absolutely not. We will offer daily stretch segments after hikes, along with daily basic yoga/movement to prepare us for the day or in really cool spots on a hike, that you can choose to join or not. The idea is to add to your trip, not detract from it. If you're dying to go on this trip and experience your yoga practice in the the most serene setting, but yoga is not your spouses/friends' thing, this trip is perfect for you. Also, nothing will be 'advanced' unless someone is dying to learn an arm balance for their instagram. We can cater to every level of experience so there's no intimidation or expectation. This is applicable to everyone!
2. Will it always be a serene, serious atmosphere?
Not at all. Those who know us well, know that much fun will be had! We may be teaching mindfulness, but are far from the yoga stereotype. Part of that is a firm belief in the power of laughter. This trip includes a lot of laughter & FUN! It's the best of both worlds.
3. Isn't being in the wilderness already a mindful experience?
Absolutely. But sometimes it helps to be guided in certain thoughts, enhance your journaling, and learn to cultivate self soothing, healing & connection.
4. Is this just for couples or can I bring my family?
Our minimum age is 14, due to the purpose & atmosphere of the trip, so bring the family! Our 17 & 19 year old daughters, also both RYT 200 certified instructors, are joining the trip and would love to lead some youth classes if there is interest or if applicable. It's a family affair!
5. Is there an added cost for this trip?
No! You pay the same amount as a regular Cataract Canyon trip! We are providing this experience for Western because we believe in what we do, have been part of the WRE family and want to provide this experience for them and you. The only added cost would be bringing cash for massages, and remembering to tip your guides.
6. Will the food be different than other trips?
No. You don't mess with something great. Westerns meals are wonderful, you will not go hungry, we promise!
If you have any other questions, feel free to reach out to us through Western and we'll be happy to talk to you more about it. This trip has been very carefully and methodically planned to cultivate & blend the ultimate wellness adventure.
Please join us, we can't wait to meet you!
Elise & Chris Jones
Utah Yoga & Wellness
Related Trips
Utah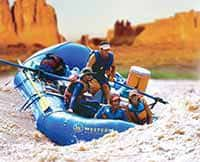 Cataract Canyon 4 Day Trip
Experience 4 Days through the heart of Canyonlands National Park.