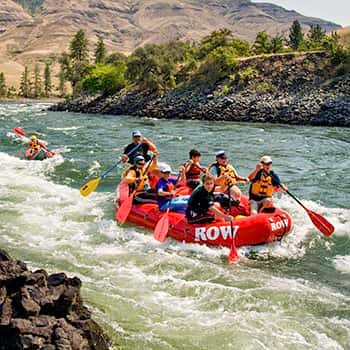 Rafts on the Lower Salmon River
The types of rafts and boats you'll be using on your Lower Salmon expedition are explained in detail below. The ride and adventure level vary between the oar-rig, the paddle raft, and the inflatable kayak. Each one offers a very unique experience.
The rapids of the Lower Salmon are class I-III and a little more playful and friendly than in many other multi-day expeditions. The rapids here are also spaced nicely apart from each other to add excitement throughout each day, and throughout the trip. This really is the best place to take the entire family (from ages 5 and above) on a kid-friendly rafting trip!

Generally, there is a variety of river craft on all trips and most people enjoy trying all available craft. However, there are logistical constraints that also determine how many and which type of craft is offered. It is always important to come with a flexible attitude about sharing the various craft opportunities.