Half a Century of Dreams Rafting the Grand Canyon is Put to the Lens on a Willie Holdman Photography Workshop
I told Claire, when I called to thank her for her words, that her review had struck all of us Western River computer-bound office staff like a brillant ray of sunshine after a long and snowy winter (Utah 2023). For a moment we were each virtually transported to the rivers and canyons and sunshine we love so much. Claire responded over the phone with an exuberance still obvious and overflowing that she couldn't possibly add to what she'd written - like it was like an inevitable flow of words that simply needed to be said and that additional words couldn't possibly add to it. I told her we know that feeling... which makes her a new member of the Western River family. Such is the hard-to-put-into words magic that happens on these river trips!
Claire's words, as posted on TripAdvisor:
For literally half a century, I've dreamed of rafting on the Colorado River. My initial trip to Grand Canyon National Park involved hiking from the rim. It was gorgeous, but I longed to deepen the experience, swept along by the power of the river, canyon walls towering five- and six-thousand feet above, explorers from the 19th century vivid in my imagination. Finally, the perfect opportunity emerged to combine rafting adventures with a workshop by esteemed fine-art landscape photographer, Willie Holdman.

I've just returned to civilization, my chin chafed by a week in a life vest, dirt clinging to my fingernails, and a smile that will never fade. This trip surpassed each of my sky-high expectations. First, a few words about…
A Word About Western River Expeditions:
They've been leading rafters through the Grand Canyon for at least as long as this trip has been on my bucket list. Impeccable back-office organization paved the way for delightful and exciting days on the river, comfortable nights camping, delicious gourmet meals, gorgeous hikes through hidden side canyons, and amazing expedition guides, each of whom deserves mention by name and a cascade of accolades. Our Expedition Leader was Ben Bressler, who worked seamlessly with three other superb river guides: Joe Clark, Shelby Wolfe and Bill Frothingham. This outstanding team kept us safe while navigating Class 10 rapids. They inspired maximum respect for and understanding of the spectacular forces that created the Grand Canyon and the early explorers who mapped this last great American frontier. They regaled us with stories, readings, fascinating facts, moving poems (some recited from memory,) and original folksongs. Ben, Joe, Shelby and Bill are truly Renaissance men, with seemingly unlimited talents. Skilled technicians on the river, philosophers and poets, master organizers of massive amounts of material that had to be efficiently stored on the rafts, retrieved and reloaded each day, sticklers about hand-washing, sanitizing and safety. Everything was doable, everything was enjoyable and safe under their guidance, from pre-dawn until the last flashlight dimmed each night at our campsites.
Our guides cooked delicious, nutritious, varied gourmet meals for nearly thirty folks three times a day. Dinner entrees included steaks grilled to perfection; chicken breasts seasoned and tender; rainbow trout with elegantly twisted lemon slicers; abundant fajitas; al dente pasta with choice of sauces; always something special for the vegetarians like grilled portobello mushrooms or veggie burgers. Ben would literally sound a bugle for reveille. Fresh coffee and breakfasts never failed to amaze, ranging from the fluffiest of fresh blueberry pancakes with real maple syrup, Eggs Benedict complete with Hollandaise, freshly cut fruit, muffins, grilled bagels, hot and cold cereal, the list goes on. Desserts fit for queens and kings included ice cream with bananas foster flambéed over ice cream kept cold for days on dry ice. Lunches were fresh and innovative, e.g., corn, black bean, avocado, and tomato salad in triangular rolled tortillas with crumbled bacon if "the vegetarian" entree was simply too healthy.
The guides tended to the occasional wound. They quietly dispatched a rattlesnake that had sought warmth under one rafter's life jacket in camp. They literally leapt into action to ensure safe navigation of the most technically challenging of rapids. They knew nearly each type of rock, every bird, animal and plant that we encountered throughout this magical week. They made sure that our party of twenty-six guests plus four river guides plus one photography master formed a cohesive, fun-loving family. It was a privilege to glide through this majestic wilderness with Western River Expeditions.
Our fellow rafters ranged in age from thirty-something to seventy-something, each bringing splendid enthusiasm and unique talents. How quickly we bonded; together embracing the challenges and magnificence of the Grand Canyon, truly one of the Seven Wonders of the World.
A Word About Willie Holdman:
I chose this particular Grand Canyon trip after I visited Willie Holdman's photography gallery in Park City and learned of his workshops. It turns out Willie is as masterful a teacher as he is a landscape photographer. Throughout our wilderness week, Willie was equally supportive of experienced photographers toting zillion dollar camera bags as he was of more novice photographers armed with the latest iPhone camera. He bustled with energy, leading sunrise photo sessions, mid-morning hikes to hidden waterfalls, and midnight searches for Milky Way images. He generously shared fresh techniques for framing shots, for finding clarity simultaneously at varying depths of field, for creating uniquely beautiful images. Sadly, my husband, who is the real photographer in our family, had to miss this Grand Canyon photo trip due to an unexpected surgery, but Willie Holdman welcomed me nonetheless, and I am a better photographer, dare I say, a better human being for it.
A Final Word:
I cannot recommend this Western River rafting and Willie Holdman photo workshop highly enough. Drop everything; get on the wait list so you, too, can enjoy this once-in-a-lifetime experience!
Thank you all for an unforgettable trip! Just posted reviews on Trip Advisor. Since I mentioned you by name, I thought you might like to read my accolades directly. You were ... you ARE ... THE BEST! My smile is brighter; my fingernails, dirtier; my photos, better because of our marvelous shared adventures.
Gratefully,
Claire Goulding
Related Trips
Grand Canyon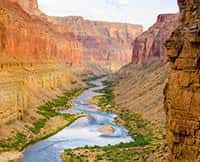 Grand Canyon Rafting Trips
Experience a 3 to 7 day expedition filled with whitewater excitement, spectacular waterfalls waterfalls and starry nights.
Grand Canyon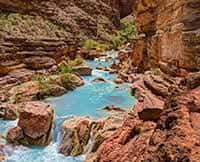 Grand Canyon 6-7 Day Vacation
A unforgettable journey of 188 miles from Lake Powell to Lava Falls.