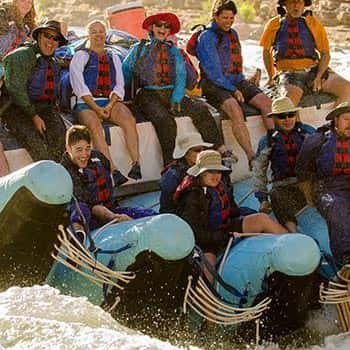 The J-Rig Raft on a Grand Canyon River Trip
In 1961, Jack Currey, founder of Western River Expeditions received a trainload of rubber. The problem? It wasn't what he ordered. Using his famous ingenuity, he crafted the "J-Rig," named after "Jack." This patented craft is used exclusively by Western River Expeditions and offers the most flexible and comfortable ride on the river.
Where the Colorado River carves through
Cataract Canyon
earlier in the summer and on our
Grand Canyon rafting trips
, J-Rigs are the vessel of choice for maximum excitement and safety. Environmentally friendly, quiet 4-stroke motors power these rugged rafts specially built for Western.