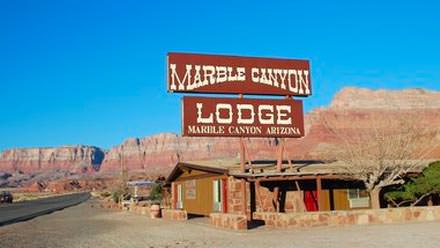 Meeting at Marble Canyon
Marble Canyon, Arizona is where you will meet our guides the morning of your river trip. (Marble Canyon is 500 miles from any large cities with international airports, and lodging in Marble Canyon is very modest. Therefore, most of our guests arrive in Las Vegas and opt for the charter flight cost that brings them to Marble Canyon the morning of river trip departure).
Getting yourself to Marble Canyon, you should plan to arrive the night prior to your river trip. Arrive in time to check-in, enjoy a meal, grab last minute items at the store, and soak in the quiet sunset on the veranda...
In the morning, your guides will meet you at 7:30 AM at the Marble Canyon Airstrip just across the street from the Marble Canyon Lodge. You should be dressed for the river, have your duffle bag packed, and your vehicle parked in the long-term parking area.